Google is constantly innovating its Search features, and the latest addition isn't just about the much-discussed generative AI. The new update, named the Perspectives filter, aims to surface user-generated discussions directly within the search engine results pages (SERPs).
This Google Perspectives filter allows users to access the unique insights and experiences of real individuals globally. Currently, it's exclusive to mobile users. But is it essential for brands to optimize for this filter? Absolutely, and here's why.
Google's Quest to Enhance Search Experience
Over recent months, Google has introduced several SERP features, including:
Search Generative Experience: Incorporating generative AI into Google Search.
Google Lens: Enabling searches directly from mobile screens.
Travel and Product Search: Displaying snapshots of web-wide information like reviews, photos, and business profiles.
While many of these features utilize generative AI to enhance search relevance and user experience, the Perspectives initiative focuses on showcasing genuine human discussions across the internet.
At VANQUISH Studios, we believe that search will continue to morph into displaying results in a more conversational tone. However, it's important to remember that search engine don't necessarily want to promote other sites such as Twitter / X, TikTok, or Facebook. For this reason, we believe doubling down on on-site Search Engine Optimization and focusing on content marketing that is original and useful is as a safe bet as any when it comes to the future of SEO and internet marketing.
Diving into Google Perspectives
Google states that this feature "helps people better understand a [news] story by surfacing a variety of noteworthy voices and sources." This implies that authoritative content from diverse platforms (beyond just blogs and websites) can gain visibility in Google's organic search results.
Interesting in trying out Google's new perspectives filter? To use the Perspectives filter on mobile:
Open the Google mobile app (available on Google Play Store and Apple App Store).
After searching for something, look for the Perspectives filter at the top your search results.
Tap on the filter to view the related content.
Historically, filters have been integral to the SERP experience, with popular ones like images, videos, related topics, and SafeSearch. The Perspectives filter takes this a step further, emphasizing genuine insights shared by real users.
Ken Romero, VANQUISH's SEO Strategist, mentioned that this filter is pivotal for brands to "connect with diverse audiences, fostering robust customer relationships and loyalty." Romero also highlighted that Perspectives can help brands sidestep biases and stereotypes, promoting inclusive communication.
The Reddit API Controversy and Google's Response
The inception of this Google project can be traced back to a significant event. Major Reddit communities protested against Reddit monetizing user-generated content by charging for API access. This led to a large-scale blackout, with prominent subreddits like r/pics and r/landscaping becoming exclusive to already existing members.
Google Search has long showcased snippets from subreddit communities. However, the Reddit blackout meant reduced access for Google's crawler, leading to diminished Reddit content in SERPs. This update aims to diversify Google's information sources, reducing dependency on Reddit.
It's very likely that Google is eyeing the rapid changing environment at Twitter / X in the same light, especially given the Elon's Musk initiated Twitter API changes of 2023. It's safe bet that Google will continue to make efforts to diversify their search content strategy in 2023 and beyond.
What Content Will Perspectives Highlight?
The Perspectives filter offers a vibrant and dynamic search experience. Instead of the conventional ten blue links, users will encounter a mix of content types:
YouTube Videos: Expect a plethora of videos related to your search query, ranging from reviews to ASMR content. Key details like views, length, and age will be highlighted.
Blogs and News Articles: Traditional articles still find their place in this modern filter, ensuring a comprehensive search experience.
Social Media Content: The perspectives filter frequently showcases content from platforms like TikTok, Facebook, Twitter, and Instagram. A significant portion of these results are in video format, but depending on the query, GIFs and images might also appear.
Community and Forum Answers: With the Reddit issue resolved (for now), relevant Reddit threads will reappear in SERPs, alongside other forums like Quora or StackOverflow.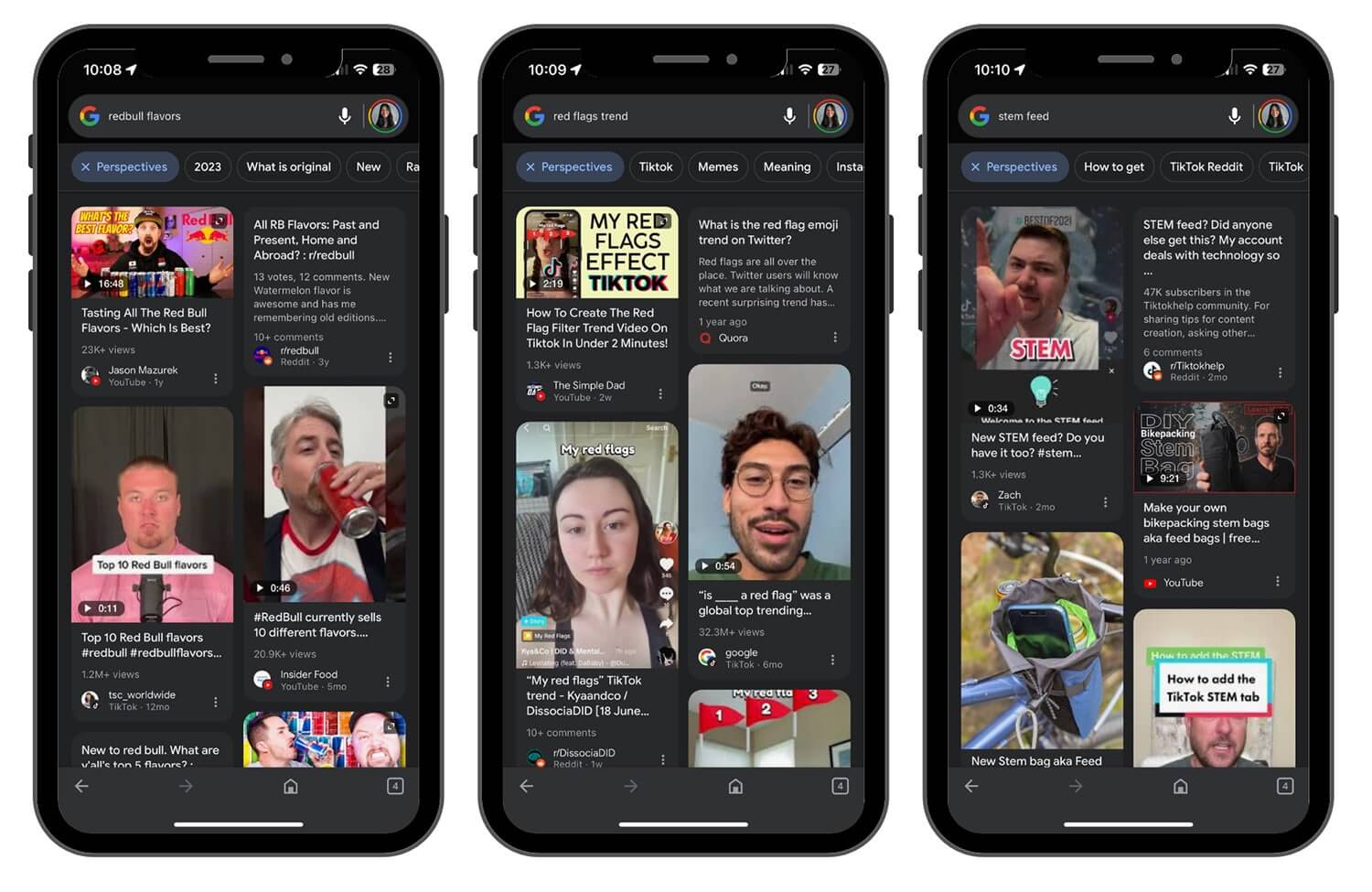 Optimizing for Perspectives: Future-Proofing Your SEO Strategy
Ranking in Perspectives is challenging but not insurmountable. Here are some strategies to consider:
Diversify Your Content Strategy: Publishing timely content across various platforms is a great idea, as Google recognizes platforms such as social media and some forums as sources of good information. However, when considering SEO tactics for the Perspectives filter, don't neglect traditional SEO. If anything, doubling down on the tried-and-true strategy of developing useful content — and sharing it — is the true goal here.
Incorporate User-Generated Content: Consider adding a forum or discussion section to your website, similar to Reddit and Quora. This not only engages potential customers but also offers unique SEO opportunities. If your site is not likely to garner enough engagement for a forum, then other forms of UGC such as interviews, video testimonials, or guest posts may be a good alternative route.
Optimize for the Perspectives Filter: Emphasize non-text assets like images and videos. With the rise of AI content, genuine, high-quality content stands out. Leverage the expertise of your team and customers in content creation where possible. Remember video content doesn't have to be studio-perfect or an hour long. Short, quality bits of content can go a long way.
Promote Your Content: High-ranking content in Perspectives often has strong social signals. Actively promote your content across platforms like YouTube, TikTok, Instagram, Twitter, and Reddit.
Create Content for Humans: Avoid creating content just for clicks. Expert content writing services, such as the digital marketing services we provide, are great at writing original content. Great SEO tactics involved focusing on genuine, helpful, and original content. Not so great tactics involve focusing on keywords or one particular feature too much.
Elevate Your Search Strategy with VANQUISH
The Perspectives filter is just the tip of the iceberg in Google's search evolution. As the search landscape evolves, continuous optimization is crucial. If this seems daunting, VANQUISH Studios is here to assist. Our comprehensive SEO content writing services are tailored to maximize visibility across all channels, ensuring your content resonates with your target audience.
We'll help optimize your content, ensure it's visibility, and focus on the needs of your audience.
Future-Proof Your SEO. Contact us today for a free consultation and quote. No pressure. No sales speak. No bull.