Are you a landscaping business owner looking to grow your customer base and generate more leads? Look no further! In this comprehensive guide, we will unlock the secrets to effective landscaping lead generation and provide you with a step-by-step roadmap for success.
As a highly skilled Tampa and Orlando digital marketing agency specializing in copywriting, content creation, local SEO, and PPC campaigns, we understand the challenges you face in attracting new clients in this competitive industry — and especially in Florida; the 3rd most competitive state for landscaping services. That's why we've curated this overview of strategies, tips, and tools to help you stand out from the crowd and connect with your target audience. From optimizing your website for search engines to leveraging the power of social media and online advertising, this guide is your go-to resource for generating high-quality leads that will drive your landscaping business to new heights. Get ready to transform your lead generation efforts and watch your business flourish. Let's dive in!
This article serves as both a guide to take action yourself and an overview of how we can help. You're always able to reach out to us for a no-strings-attached free consultation!
The Importance of Effective Landscaping Lead Generation
In the competitive world of landscaping, generating high-quality leads is crucial for the success of your business. Effective lead generation allows you to connect with potential customers who are actively seeking landscaping services, increasing your chances of converting them into paying clients.
With stiff competition in both the Tampa and Orlando markets, it's not good enough to just cover a single aspect of marketing. There is no one single thing — such as a good logo or an active Facebook page — that can singlehandedly grow your inbound leads. With savvy consumers evaluation your brand as a whole, it's important to not leave any glaring aspects untouched. Some consumers may be influenced by the professional appearance (or lack of) of your website, while others may be influenced by the headlines on your ads. For that reason, a whole-cloth approach should be taken to ensure your entire online presence professionally represents your brand value.
To effectively generate leads, it's essential to understand the specific needs and preferences of your target audience. By identifying their pain points and desires, you can tailor your marketing efforts to address their unique requirements and stand out from your competitors. Frankly, it's classic marketing: appeal to what your customers care about! The good news is that it's likely your competition isn't doing this, as most ads are vanilla and offer no promise or value.
Understanding your Target Audience
Before diving into lead generation strategies, it's necessary to have a deep understanding of your target audience. Take the time to research and analyze the demographics, psychographics, and preferences of your ideal customers. This information will help you create targeted marketing campaigns that resonate with your audience and drive engagement.
Examine your current client list. Which clients are most valuable? Which clients would you prefer to drop in favor of other clients? Pay attention to the clients you would like to drop and keep that in mind when planning future marketing campaigns. It may seem obvious, but at VANQUISH Studios we often see prior campaigns that have obviously targeted the wrong type of customer.
Start by creating buyer personas that represent your different customer segments. These personas should include details such as age, gender, location, income level, interests, and pain points. With this information, you can craft personalized messages and offers that speak directly to your target audience.
These client personas allow you to dial up or down campaigns based upon the ebb and flow of your business.
If you reach capacity with a particular type of client, that campaign can by dialed down and other campaigns can be dialed up. It's actually quite basic in concept. The key is to actually do it; actually plan out your types of clients and formulate campaigns based upon that targeting.
Developing a Compelling Landscaping Brand
A strong brand is essential for attracting and retaining customers. Your brand is more than just a logo and a name; it's the perception people have of your landscaping business. A compelling brand identity will set you apart from your competitors and leave a lasting impression on your target audience.
To develop a strong brand, start by defining your brand values and mission. What sets your landscaping business apart? What do you stand for? Use these core values to guide your brand messaging and visual identity. We can help you do this, and more, with our Marketing and Branding Packages.
Once you have a clear brand identity, communicate it consistently across all touchpoints, including your website, social media profiles, and marketing materials. Consistency builds trust and familiarity, making it easier for potential customers to choose your landscaping services over others.
Common Branding Pitfalls
We often see branding mistakes when we first analyze the existing brand of a new client — even if they hired a freelancer or agency before. It's a good idea to keep the following items in mind; avoiding them will help you create a strong brand.
Too complex of a logo — a simple, straightforward, and easy to recognize logo is far better than a mini masterpiece.
Initials as a company name — where possible, avoid this; initials are hard to remember.
Poor colors — ideally your brand colors should either match your industry or be cohesive enough to support your whole brand image.
Not having branding guidelines — it's important to define how your brand logo, colors, fonts, and other assets should be used.
Wrong tone of voice — joking about something serious or coming off as insincere is a major mistake that should be avoided.
There are certainly many more branding mistakes to avoid, but we'll go over those in a future more in depth article.
Creating an Optimized Landscaping Website
Your website is often the first point of contact between your business and potential customers — mainly through both organic traffic and paid ads. It's crucial to have an optimized website that not only looks visually appealing but also provides a seamless user experience. To be blunt, if your website is poorly designed or not optimized for mobile, many potential customers will dismiss you and bounce back to the search results page they were previously at.
When you hire us for landscaping web design, SEO, and digital marketing we start by optimizing your website for search engines. The first step is to conduct keyword research to identify the terms and phrases your target audience is using to search for landscaping services. It's important to both identify direct keywords potential customers are using, as well as latent keyword — words and phrases that are related to the primary keywords. Incorporate these keywords naturally into your website content, including page titles, meta descriptions, headers, and body text.
This is called content marketing and accomplishes a few things. First off, it establishes the subject matter of your website to search engines. Websites that have a good content marketing strategy stick to writing about primary and ancillary topics which support the primary topics. Secondly, it establishes both trust and expertise; this is good for SEO as well as for the actual human readers of your content. For further reading, learn about how we write content that is SEO optimized for our clients.
In addition to keywords, it's important to make sure your website is mobile-friendly, as an increasing number of people are using their smartphones to search for local services. Since 2015, Search engines like Google and Bing prioritize mobile-friendly sites in search results. A responsive design ensures that your website looks and functions well on all devices, improving the user experience and increasing the likelihood of generating leads.
Utilizing Local SEO for Landscaping Lead Generation
Local SEO is a powerful strategy for attracting customers in your area. When someone searches for landscaping services in your city or town, you want your business to appear at the top of the search results. This is where local SEO comes in.
To optimize your website for local SEO, start by creating a Google Business Profile. This will ensure that your business appears in local search results and on Google Maps. Include accurate information about your business, such as your address, phone number, and business hours.
For businesses with physical locations, it's important to learn about the Google 3-Pack; the top three Google Maps placements shown on some search results pages.
Optimizing your website's content for local SEO involved a solid strategy which includes items such as including the names of the cities and towns you wish to target within your blog content, creating city-specific webpages, and showcasing your work on a portfolio which references the different cities, neighborhoods, and businesses you've served. Other factors which lead to locally optimized SEO include proper page titles and content headings that include both local locations and your keywords. Ultimately, local SEO is an ongoing and evolving process. Generally, it is better to hire a digital marketing agency to assist with local SEO. We're always here if you'd like to speak to us.
Additionally, don't forget to encourage your satisfied customers to leave positive reviews on platforms like Google, Yelp, and Facebook. Positive reviews not only improve your local SEO rankings but also serve as social proof, instilling trust in potential customers.
Leveraging Social Media for Landscaping Lead Generation
Social media platforms offer a wealth of opportunities for generating leads and engaging with your target audience. By leveraging platforms like Facebook, Instagram, and LinkedIn, you can showcase your landscaping expertise, build a community of followers, and drive traffic to your website. In fact, one source of new leads are often neighborhood or city specific Facebook groups; especially ones that are focused on community reviews and recommendations.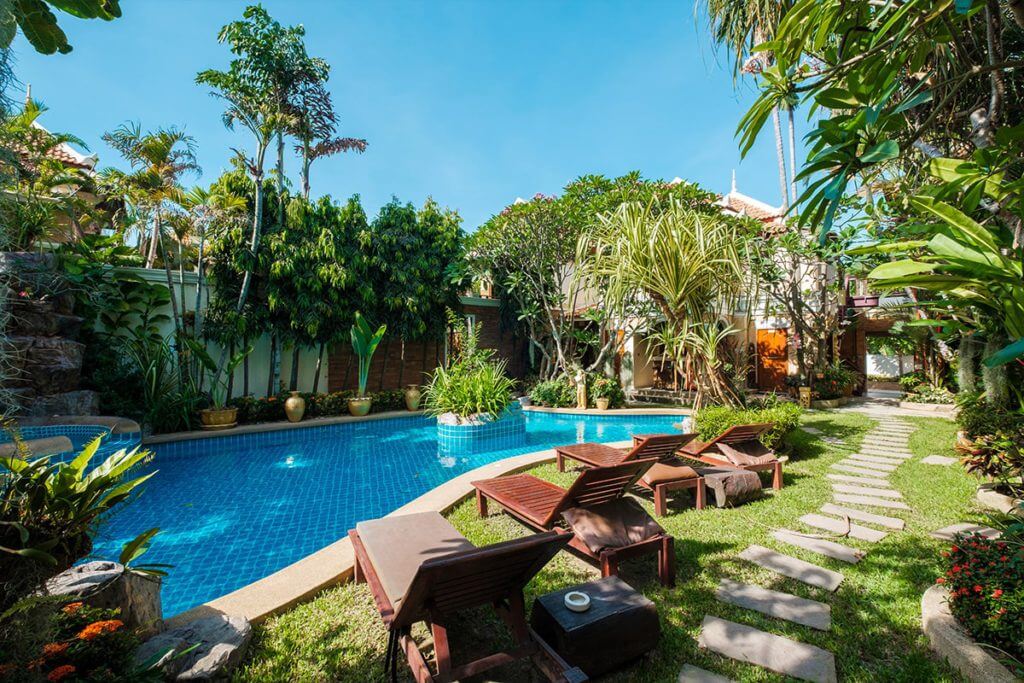 A great tip is to find local Facebook groups that accept businesses as members. Be sure to pay attention to the group rules so that you don't give a negative first impression, though! Often these groups will allow businesses to post about their services once a week or once a month. It's always great to just interact as a member of the community; providing tips and advice where possible. This will quickly lead to a positive brand image if done well. Again, this is an area where we can help.
Of course, it's important to identify the social media platforms that are most popular among your target audience. Focus your efforts on those platforms to maximize your reach. For example, if your target audience consists of homeowners, platforms like Facebook and Instagram may be more effective than Twitter or TikTok.
Create engaging content that showcases your landscaping projects, shares helpful tips and advice, and highlights customer success stories. Be proud of your work! Use eye-catching visuals and compelling captions to grab your audience's attention and encourage them to take action. Great visuals are key — show homeowners what they could have if they hired you!
Implementing Email Marketing Strategies for Landscaping Leads
Email marketing is a cost-effective strategy for nurturing leads and staying top of mind with your target audience. By building an email list of interested prospects, you can send targeted messages that provide value and encourage them to take the next step in finding their ideal landscaping company.
Start by creating lead magnets, such as e-books, checklists, or guides, that offer valuable information to your target audience. Offer these lead magnets in exchange for their email addresses, allowing you to build your email list. Posting on social media is a great way to attract engagement on your profiles which lead to growing your email marketing lists.
Once you have an email list, send regular newsletters, promotions, and updates to keep your subscribers engaged. Personalize your emails based on their interests and preferences, and include strong calls to action that encourage them to contact you or request a quote. Segmenting your lists into prospects and customers is a great way to avoid unsubscribes, as both of those audiences are different. As an experienced Tamp and Orlando digital marketing agency, we can help you put together an excellent email marketing strategy with our digital marketing services.
Using Online Directories and Review Platforms for Lead Generation
Online directories and review platforms are powerful tools for generating leads and building credibility. Listing your landscaping business on platforms like Angie's List, HomeAdvisor, and Houzz can expose your services to a wider audience and attract potential customers who are actively seeking landscaping professionals — however, be aware that these services ultimately make you compete for leads and often make it hard for customers to reach out to you directly. Instead, you might want to speak to us about lead generation for landscaping companies. When you hire us, we'll deliver exclusive leads directly to you — leads that you won't have to compete for and leads where a competitors won't be quicker to the draw.
Yo don't have to pay Angi! We're experts at generating leads for landscaping businesses. Book a free consultation today to discover how we can affordably generate leads for your business.
Furthermore, the cost leads on third party platforms can wildly range from $15 to $85 per lead. Given that not every lead will convert, and that even leads that covert many will not leave a review, the cost of a review on platforms such as Angi can be hundreds of dollars. This is a great example while diversification of marketing tactics is necessary, not just for landscaping companies but for all small businesses. At VANQUISH, our goal is to utilize multifaceted tried-and-true digital marketing techniques across a wide spectrum of tools.
If you do use platforms such as Angi or HomeAdvisor, ensure that your business information is accurate and up to date on any third-party platforms. Include high-quality photos of your landscaping projects and encourage satisfied customers to leave reviews. Positive reviews and high ratings will boost your credibility and attract more leads.
Networking and Partnerships for Landscaping Lead Generation
Networking and forming partnerships with complementary businesses can open doors to new leads and opportunities. Connect with other professionals in the home improvement industry, such as architects, interior designers, and real estate agents, who may have clients in need of landscaping services. In fact, via our Real Estate web design, marketing, and SEO services we've made quite a few connections who may be happy to refer leads to you.
Attend industry events, join local business associations, and participate in online communities to expand your network. Be proactive in building relationships and offering value to potential partners. By collaborating with others, you can tap into their existing customer base and generate valuable leads for your landscaping business. If you attend events such as The Landscaping Show at the Orange County Convention Center in Orlando, or the Tampa Home Show at at the Tampa Convention Center, be sure to write a blog article about it and post on social media. Let folks know where you are and how they can come see you! It's good for SEO, good for networking, and good to show your business is proactive.
Tracking and Analyzing Landscaping Lead Generation Efforts
To ensure the effectiveness of your lead generation strategies, it's essential to track and analyze your efforts. Set up tracking mechanisms, such as Google Analytics, to monitor website traffic, conversions, and other key metrics. This data will provide insights into the success of your lead generation initiatives and help you make data-driven decisions. Granted, we'd be amiss to not say that Google Analytics is a tool that requires knowledge to use it — but it's the best tool out there to track a variety of indications related to organic and marketing performance.
Regularly review your analytics reports and identify areas of improvement. Are there any pages on your website that have a high bounce rate? Are certain social media platforms driving more traffic and leads than others? Use this information to optimize your strategies and allocate resources where they are most effective.
Putting Landscaping Marketing Tactics to Good Use
Effective landscaping lead generation is a combination of understanding your target audience, developing a compelling brand, optimizing your website, leveraging local SEO, utilizing social media, implementing email marketing strategies, using online directories and review platforms, networking, and tracking and analyzing your efforts.
By taking a closer look at the strategies outlined in this guide, you can transform your lead generation efforts and watch your landscaping business flourish. Remember, generating high-quality leads takes time, effort, and a deep understanding of your audience. Stay persistent and consistent in your efforts, and you will see the results you desire.
We're here to help with any, or all, aspects of your landscaping and lawn care marketing needs. Feel free to reach out for a free consultation. we're happy to discuss how we can help you, or even just answer a question you have. No strings attached. Happy landscaping!
Let us handle your landscaping marketing. There's plenty of opportunity to rise above your competitors, and we're the perfect partner to help you do just that.